TIMBERLANE SINCE 1958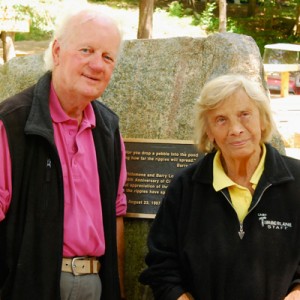 Camp Timberlane was created from a tract of wilderness in 1958 by Barry and Philomena Lowes.  Since then it has become known to three generations of campers and staff as a camp where each person is cared for as an individual.  This quality of personal attention has set Timberlane apart from other camps.  Today the tradition, spirit and integrity of Timberlane continue strong under the current ownership of Corey Mandell.
At Timberlane We Believe
…that camp should be FUN, after all it is the camper's vacation. But deeper, more meaningful experiences happen to a child at camp.  There are incomparable opportunities for education in living, for the development of attitudes, habits and values.  These hidden lessons in living are the result of intimate day-to-day cabin life shared with other children of the same age, under the guidance of sympathetic and understanding leaders.  It is a tremendous responsibility that we undertake when we ask you to entrust your child to our care, a trust that is the focus of all that we do.  The Directors maintain a close personal contact with each camper and counselor.  Parents are often surprised to find that the Directors know what is happening to each child day by day in an effort to ensure them a happy and successful summer.  The Director's cabin sits in the center of camp over looking the entire waterfront and the open door policy to all campers and staff provides a welcoming homelike setting away from home.
A Cabin is Home for the Summer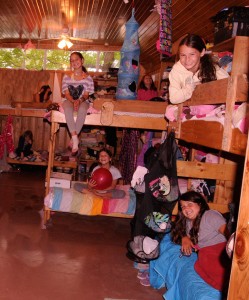 Campers live in cabins, guided and counseled by 3 to 4 mature staff.  Each cabin has its own bathroom facilities and there are designated shower buildings for boys and girls.  90% of our cabins are newly renovated complete with pine interiors, hardwood floors and ceiling fans.
Laundry is done once a week and is returned the next day. Campers' clothes are kept in shelves or hanging on racks. Wide expanse of glass and covered porches provide a tranquil view of the lake and woods, while allowing warm sunlight and fresh breezes to brighten and cool each cabin.
Our Program
Camp Timberlane offers a rich array of activities taught by full-time, qualified instructors.  The same careful individual attention is given to every child, beginner and expert.  Counselors travel with their campers to all activities to ensure that they participate with friends, have fun and experience the thrill of achievement.  At Timberlane we know that some campers, especially younger ones, if given total free choice will shy away from trying new activities.  By going with cabin mates, guided by their counselors and finding qualified instructors ready to encourage and teach them, Timberlane will give your child new skills and interests that they will carry with them for the rest of their lives.
While our rich menu of activities provides choices to meet the desires and needs of every camper, there are free times during each day to pursue activities of special personal interest.  This combination enables campers to concentrate on some activities while ensuring that they develop a wide range of camping skills.
Our equipment is the best and our standards of safety and levels of instruction are outstanding from beginner to expert.
Opportunities to be part of a team are provided through in camp leagues as well as intercamp matches in skiing, tennis, basketball, soccer, baseball and swimming.
In addition to our regular daily activities there are a variety of Evening Programs to round off each day, geared to the interests of each age group. One and two day theme programs, carnivals and out trips offer a rich variety to the daily routine culminating in our traditional OLYMPIAD held at the end of each summer.
A Time For Reflection

Friday evenings are special. After a Shabbat dinner where everyone wears white to the dining hall, the whole camp gathers in a beautiful outdoor setting, overlooking the lake.  Campers prepare and conduct services choosing a universal theme, which is shared together under open skies at sunset.  These are deeply impressionable moments.  Alumni invariably say that Friday evenings hold a special warm memory for them when they think back to camp.
Timberlane, A Wooded Sanctuary
Here on a private, pure, spring fed lake, free of cottages, surrounded by 600 acres of wooded hills, away from the rush and pressures of city life, one can know the simple beauty of nature undisturbed, the stillness of a sunrise on a misty lake, unforgettable sunsets, the vast star filled night sky or the loon's evanescent call.  Unlike the city, one has a chance to sit alone or with a friend amidst this solitude or climb trails through towering tress that are hundreds of years old, past rocks left by the Ice Age, pausing at our lookout, to look for miles over our lake and far beyond.  Such moments are indelible and leave their imprint upon a person for a lifetime.