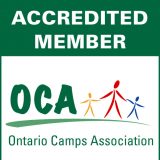 Camp Timberlane is accredited by the Ontario Camping Association (OCA). Camp membership in the OCA is not automatic. There is a two-year provisional period, during which time OCA representatives visit the camp annually ensuring compliance with all standards. Once a camp achieves full membership, OCA representative visit every four years. Timberlane voluntarily adheres to more than 400 separate operational standards covering health and safety, leadership, food service and maintenance, staffing, programming and administration.
Healthcare
Our infirmary operates as a primary care clinic for the camp. Our medical team (including one full-time physician and four full-time nurses) has access to every camper's health record and is trained and equipped to deal with any health issue.
The infirmary is fully stocked with medical supplies to aid with everything from minor abrasions to more serious conditions. We also have a defibrillator on site.
If our medical staff feels that a camper needs treatment that we are unable to provide, we have excellent medical facilities just 12 minutes away in Haliburton. All of our Doctors have special privileges at Haliburton Hospital to eliminate wait time in case of emergency. We also have a local dentist available if necessary.
This summer will present a new set of challenges that our team has carefully planned for. Our team works tirelessly to provide our campers and staff the ultimate care each and every day. Returning this summer, we are pleased to have Dr. Deena Savlov, Dr. Jill Solomon, Dr. Darren Merker, Dr. Jesse Wolfstadt, Dr. Justine Cohen Silver, Dr. Trevor Glazman and Dr. Neil Orzech. Dr. Kenny Melvin will be returning as our chief medical advisor.
We are excited to introduce our new Head Nurse Michelle Johnston. Michelle was amongst the creation of the NHL Covid team, assisting to set policies, procedures, Covid-19 screening, and testing within the NHL Bubble. Focusing on maintaining, health, safety, security, and welfare of over 1200 people within that Bubble. Michelle's Covid initiatives over the past year have made her expertise well sought after. She has been part of several movie sets in and around the Toronto scene, both as a Covid strategic implementor, screener, VIP Covid Tester, and on-set RN.
In addition to our amazing health care team, we have also upgraded our Health Centre protocols and facilities for the upcoming summer. We have allocated additional space in camp to be used by the Health Centre team as needed, such as an isolation cabin for campers & staff in the case of a positive test. To reduce the risk of transmission, only selected senior staff who have received one dose (or more) of a COVID-19 vaccine are eligible for essential trips to town. Each trip will be assessed on a case-by-case basis. Anyone that leaves camp must wear appropriate PPE. There will be no visitors allowed in camp and no Visitors Day. In addition, this summer there will be no canoe trips off-camp property. Instead, we will do overnights by cabin group on our private lake on one of our seven camp sites or tree house. Local staff (maintenance, laundry and cleaning) who commute every day will complete a pre-screening form prior to arrival in the morning. They will maintain a 2m distance from all campers and staff throughout the day and will wear a mask and other PPE (such as a face shield).